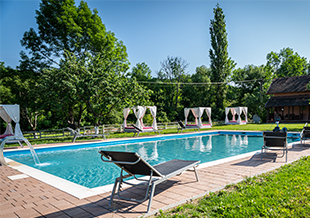 Aquam is the latin name of the element of water, indispensable component of all forms of life from antiquity to the present and it's also the inspiration that we have choosen for our business.

The philosophy that guides the activities proposed by Aquam researches the experience of daily wellness that can make people's life day by day.

Aquam promotes social activities and relationships aimed to eliminate stress, helping to dedicate more attention to ourselves in an ambience that makes us more in harmony with our body and soul that does not promise unattainable goals but only paths oriented to give us the pleasure to live our time with calm and serenity.

Hence the name Aquam that comes from a suggestion as simple as rich: the wellness seen as positive energy. The visual impact is just a dynamic movement, part of Aquam pools like the different alternating colors, like the days of the year.

Open from May to September.